Ocean Care, our sustainable commitment present in all our collection with a stamp which identifies it
Ocean Care is the motto with which BOX San Sebastian defines since 2019 the commitment acquired with society of protecting the planet.
Currently, Ocean care is objectified in three projects: our inside lining of all the collection with the sustainable fabric Ondas, the last sustainable collection Frontoia and the patronage commitment acquired with two leading NGO's in research and conservation of the planet (Aranzadi Zientzia Elkartea and Surfrider Europe).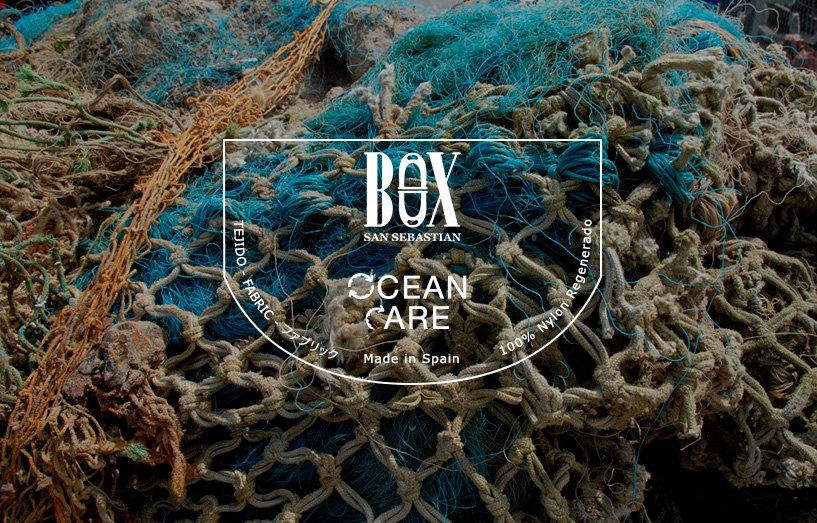 Sustainable collection Frontoia
Based in the concept of circular economy, Frontoia is made of high-quality polyester from marine plastic that is transformed in SEAQUAL® YARN after the recovery of PET post consume bottles rescued from the marine litter by fishermen fleets and other ocean cleaning programs.
Urban and casual styled, Frontoia is a handbags, backpacks and escapade bags collection, with leather careful details synonym of the distinction of the brand and designed for this collection, which finds its inspiration in the Basque frontons and practice of the Basque Ball. With Frontoia, we give a second life to the accumulated plastic in the sea joining SEAQUAL ® YARN's manifest: "Together for a clean ocean".
UPCYCLED MARINE PLASTIC BY SEAQUAL® INITIATIVE, has Global Recycled Standard (GRS) and Standard 100 by Oeko-Tex® certificates.
Ondas, our sustainable lining since 2019
In 1989 we designed the inside lining for our products. Of the same color of the sand of San Sebastian beaches, since 2019 we have turned it into sustainable relying on the technology that makes possible circular economy, redefining its style and sketching ONDAS, which reproduces the shapes and silhouettes that the waves leave in the sand at low tide; sinuous waves intimately linked to the sea that wrap our logo as if they were little boats, "txalupas".
This innovating fabric, which has presence in all our products as inside lining, is made of ECONYL® regenerated yarn, from nylon waste otherwise polluting the Earth, like fishing nets, fabric scraps, carpet flooring and industrial plastic.
Ondas has Global Recycled Standard (GRS), Standard 100 by Oeko-Tex® and bluesign® SYSTEM certificates.
Patronage commitment with leading NGO's
In addition to reducing our ecological footprint, the reflection of OCEAN CARE project in society is essential for BOX San Sebastian..
Since 2019, we have acquired a commitment to patronage with two leading NGO's in research and conservation of the planet: Aranzadi Zientzia Elkartea and Surfrider Europe.
For them will be a part of the price of each product sold of our collection. Our goal is to continue creating the best products for self enjoyment, protecting our planet a bit more each day and that your purchase has a positive impact.